That's right ladies and germs.

He Blogs/She Blogs is back and located at their own private cozy cottage.

If you've been missing the latest male v. female points of view on anything from high heels to long hair v. short hair to how men REALLY feel about shopping, you can now get your crack at the low, low price of FREE!

So, head on over and check 'em out. They're looking for a good topic to discuss on their first ever post on the new site.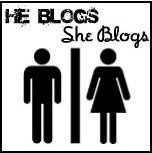 Click it. You know you wanna.

Later,

Mama Dawg