Dear Lady Walking In Front Of Me This Morning On The Way Into Work:

You know, the sidewalk is made wide enough that two people can walk side by side. Or if that's too uncomfortably close, you can at least walk past a slower walking person.

However, that little fact seemed to have eluded you this morning. Instead, you were bobbing and weaving from side to side worse than Sugar Ray.

Did you not notice me breathing down your neck as I tried to pass you?

Irritated,

Mama Dawg

***************

Dear Co-Worker That Got Pissed At Another Co-Worker For Wanting To Lock The Door:

Yeah, I don't blame them. I would feel like you might steal my shit, too.

Shut your trap and sit down like a good little girl.

No one wants to hear from you. Especially since you're a known liar.

Trust me, Elvis was NEVER married to your aunt......no matter what she said.

Again Irritated,

Mama Dawg

***************

Dear Captain Dumbass and Middle-Age Woman:

Thank you. Thank you so much for this. It made my day!

Grateful Zombie Lover,

Mama Dawg

***************

Dear Max,

Can you learn to speak human? I need to know what's going on with your foot. You're limping but I can't see the source for the limp.

Concerned,

Mama Dawg

***************

Dear Clock,

Can you please be 2:45?

Bored,

Mama Dawg


Wanna play along?

Click on the button.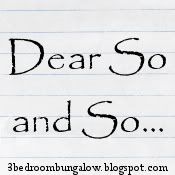 Later,