Dear Me,

You can tell how much you've adapted to living in the country when you find yourself showering with a dog skull in the tub with you and you don't even bat an eye.

Scratching Head in Wonderment,

Me

****************

Dear Current Job,

Today is my last day with you. You've been........interesting to say the least. I'll miss all of the weird and wacky conversations my co-workers have had that they don't know I've been privy to since I've always got my earbuds in. Yeah, I don't keep the volume up THAT high on my iPod. I've heard EVERYTHING!!!! Mwah, hah, hah, hah, hah!!!!!

Sayonara,

Me

***************

Dear New Job,

Thank you for being 15 minutes away from my house instead of the 2 hour round trip drive I do every day with my soon to be former job.

Thank you for giving me 2 weeks off at Christmas...WITH pay.

Just.....thanks.....in general.

I hope we'll get along!

See you Monday at 8 a.m.,

Me

***************

Dear Sonic Breakfast Burrito,

Thank you for being so yummy.

Love,

My stomach and taste buds

***************

Dear Mom,

Next time you want to buy me a breakfast burrito from Sonic to take to work the next morning, I'll just take a junior one. The regular ones are too big (that's what she said!).

Thanks mommy!

Love,

Me

***************

Dear Last Day of Work,

Please don't be one of those LOOOOOOOOOOOOOOOOONG days.

Grateful in Advance,

Me

***************
Dear iPod,

Thank you so much for playing my songs this morning in the most random order I've ever experienced.

Here's a sampling:

Bloody Valentine-Good Charlotte
Buttons-Pussycat Dolls
Teddy Bear-Elvis Presley
It's Still Rock and Roll-Billy Joel
Come On and Dance-Steve Miller Band
Woman-Maroon 5
Manic Monday-The Bangles
Banana Boat Song-Harry Belafonte
I'm in Love with a Stripper-T-Pain

You rock,

Me

***************

If you want to play along, click here.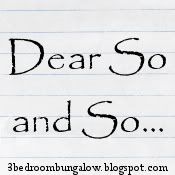 Later,